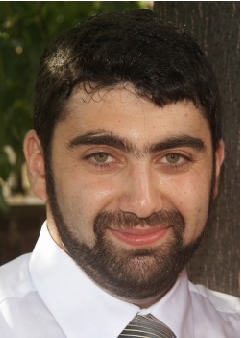 Address:
Signal Processing and Speech Communication Lab
Graz University of Technology
Inffeldgasse 12
A-8010 Graz
Austria

Tel: +43 316 8734433
Fax: +43 316 8734433
Email: dshutin-(at)-tugraz.at
I was born in Ukraine, where in year 1995 I started my undergraduate studies in Dnepropetrovsk State University. Still during my undergraduate studies in the Faculty of Radiophysics I actively took part in different research projects running in collaboration with the Faculty of Medicine at Dnepropetrovsk State University.
I was actively involved in different faculty research projects, primarily in collaboration with the Faculty of Medicine, requiring development of signal processing algorithms for diagnostic purposes. In 1998 within the project ``Children of Chernobyl'' I developed a medical fuzzy expert system as well as wrote the corresponding data collection and processing software to be used for clinical study purposes.
In 1999 I developed algorithms for automatic classification of gastroenterological diseases based on infrared spectroscopy data withing the project ``Computer-based methods for gastritis classification''. This topic has later formed the basis of my Master Thesis. In my Master Thesis I studied how to extract features of gastroenterological IR spectroscopy measurements that allow discrimination of normal and pathological cases.
Since 2001 I am conducting
research
as well as involved in numerous
teaching activities
in
Signal processing and Speech Communication Laboratory
(SPSC Lab), Graz University of Technology.
Here you can download
In 2005 at the International Conference on Information, Communication, and Signal processing (ICICS'05), Bangkok, Thailand I received the ``Best Student Paper Award''.
Since 2006 I am married to Olga and a father to our beautiful little daughter Vera.
I admire the poetry and prose of
Joseph Brodsky
.
I am also very much fond of photography.
Here
you can find some of my photos.